fuzzwolf.livejournal.com posting in

furplanet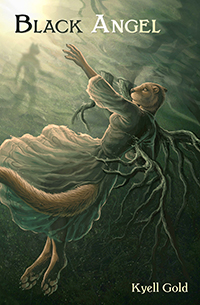 We're happy to announce we'll be handling pre-orders and a special signing event for the launch of Kyell Gold's newest book, Black Angel.


Meg's always thought that love and ghosts are fantasies for gullible people, but her skepticism is about to be tested. As her roommates Sol and Alexei move on with their lives, the otter remains stuck in her rut, unsure what to do about her future or about her best friend Athos. He wants more than friendship from her, but she isn't sure whether she's straight or gay, let alone in love with him. Not helping are the strange trances that show her the lives of two other young girls, one who wants to be a voodoo priestess and the other who wants to to escape a Christian cult. Athos sticks by her as the trances take over her life, and Meg will have to figure out her true feelings or lose him along with everything else.

Black Angel is the final part of the Dangerous Spirits trilogy and completes the story started by Green Fairy and continued in Red Devil.
Black Angel
will officially debut at a special book launch event at
Texas Furry Fiesta
in just two weeks. For those attending the convention, the book launch event will be at 9pm Thursday, March 10th in the Lalique Ballroom.
Pre-order info:
Black Angel
can be
ordered online
for shipping after Furry Fiesta or to be picked up at the convention. Use the special "Furry Fiesta at-con pick-up" option when checking out if you intend to pick up your order in person.
Book signing event!
Of course Kyell will be on hand at the convention to sign, but he will also sign any of his books purchased through
FurPlanet.com
between now and March 10th. We have added a new field to our checkout page which will allow you to add a note about your order. If you want Kyell to personalize the book signing. Please provide the name you would like the dedication made to on the order notes. See the below image for an example of what this request should look like:
Please use our
Contact Us
form or reach out
@FurPlanet
on Twitter if you have any questions.